Tian Tan
Buddha
Know variously as the Big Buddha, the Giant Buddha and Lantau Buddha this 34 meter high bronze statues is the largest outdoor seated Buddha statue in the world. Placed high on a mountain on Lantau it is next to and associated with the Po Lin Buddhist Monastery, and today is most often visited via the Ngong Ping 360 cable car from Tung Chong.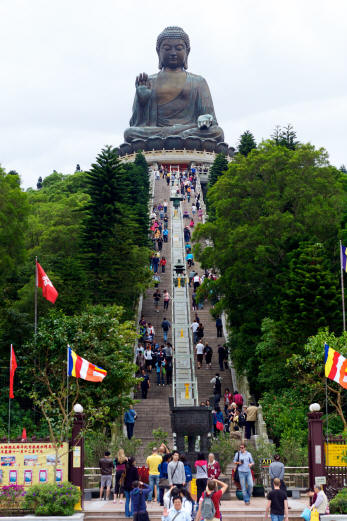 The statue may be visited at any time but entrance to the inside of the building and the Monastery is limited to 10am until 5:45 each day. It is open on weekends and holidays.
There are no entrance fees though donations are of course accepted.
Approaching the statue means climbing an impressive flight of almost 250 steps which leaves the visitor properly impressed by the giant statue. As well as seeing it up close from the top there are also wonderful vistas over much of Lantau from the edges of the platform on which it stands.
A visit to the Big Buddha is often combined with lunch at the Po Lin Monastery to enjoy the traditions of Buddhist vegetarian food.
Busses also leave from the area and go directly to other major destinations on Lantau including Mui Wo and Tung Chung.
There is another famous Buddhist attraction in Hong Kong, the "10 thousand buddha monastery" in Shatin, only that isn't actually a monastery at all. It is still worth a visit as an unusual destinatoni, and is nearby the Hong Kong Heritage Museum which is also good.